First-time Visitors
It might be difficult for first-time visitors to a new country, but here are some great tips that you can follow as the first time visitors
GRM Marketing
Feb 18,2023
Read Time min
Visiting the Kingdom of Thailand for the first time can be a little overwhelming and leave you feeling disoriented. To avoid this, it is recommended that you familiarize yourself with the country before your trip. Our planning guide can help you with this.
This guide provides basic information about Thailand's traditions and culture, Wi-Fi connectivity, seasonal weather, and luggage delivery options. It also answers common questions that first-time travelers may have, along with insider tips and practical advice to help you navigate the country with confidence. By going through this guide, you can gain a better understanding of Thailand and make the most out of your visit.
Thailand's Traditions and Culture
The Kingdom of Thailand has a rich cultural heritage, and its traditions and culture  are deeply ingrained in the country's society. Here's a summary of some of Thailand's traditions and culture:
Respect for the Monarchy: The Thai people hold great reverence for the monarchy and show respect for the royal family in various ways.
Buddhism: Buddhism is the main religion in Thailand, and it is practiced by over 90% of the population. Temples and monks play a significant role in Thai culture.
Wai: The Thai greeting known as "wai" involves a slight bow with hands pressed together, and fingers pointing upwards. It is used to show respect and gratitude.
Food: Thai cuisine is world-renowned, with a blend of sweet, sour, spicy, and salty flavors. It is common to share dishes family-style at mealtimes.
Dress: Conservative dress is generally expected in public places, particularly when visiting temples or government offices. It is best to wear formal clothing without shorts for both women and men.

These are just a few examples of the many customs and traditions that are an essential part of Thailand's culture. As a visitor, it is essential to respect and appreciate them to fully experience the beauty of Thailand.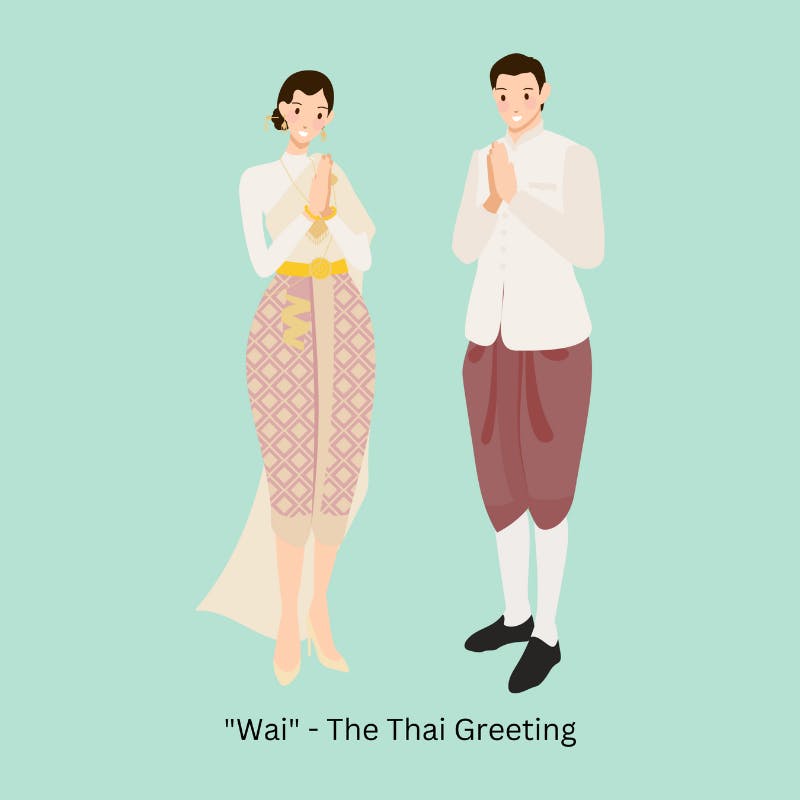 In Thailand, Wi-Fi is widely available in hotels, restaurants, cafes, and public places like airports, shopping malls, and train stations. However, the speed of Wi-Fi can vary, with some places offering high-speed internet and others having slower connections. For visitors who need to stay connected on-the-go, purchasing a local SIM card with a data plan is a good option, which can be bought at the airport or convenience stores like Seven Eleven. Many public areas in Thailand offer free Wi-Fi, such as parks, museums, and government buildings. 
Thailand has a tropical climate that is generally warm and humid throughout the year. The dry season lasts from November to April, offering warm, sunny weather with low humidity, making it an ideal time for outdoor activities. The hot season runs from March to June, with temperatures that can go as high as 40°C (104°F) in some areas. During this time, it is important to stay hydrated and take breaks in the shade when engaging in outdoor activities. The rainy season, also known as the monsoon season, occurs from May to October, with rainfall that can range from light to heavy. While it can be a challenge to engage in outdoor activities during this time, the countryside can be green and naturally beautiful, and the waterfalls and rivers are at their fullest.
Thailand has a variety of luggage delivery options that make it easy to travel without having to carry your bags around. Many hotels and resorts offer luggage storage and delivery services, allowing you to explore the area without worrying about your bags. There are also luggage delivery services that operate in major tourist areas, such as Bangkok and Phuket. These services allow you to send your bags directly to your destination, whether it's a hotel or the airport. Additionally, there are several international courier services like DHL and FedEx that operate in Thailand, which can be used to send luggage and packages to other countries. Overall, there are many convenient luggage delivery options available in Thailand, making it easier to travel without carrying heavy bags.

PLAN YOUR EVENT WITH OUR TEAM
The Grand Richmond Hotel's experienced event planning team is dedicated to making your event a success, with a wide range of services that include venue options, meetings, incentives, conventions, exhibitions, and dining experiences. Our team will work closely with you to ensure that your event runs smoothly and exceeds your expectations.